As well as an extensive shelf range, Besca can offer tailored solutions to your project with our specialist fabrication  capabilities…
Besca has built up an enviable reputation within the construction industry by delivering to projects on time and within budget. This simple statement has become the cornerstone to our business, thus exceeding the expected level of service and reliability that is essential in today's competitive markets. 
We have an engineering division and flexible manufacturing capabilities that enable us to meet any needs of complex projects with all manner of 41mm strut channel and bracket, cable tray and laddder in steel, aluminium and FRP.As well as our standard ranges and sizes of these products, we can offer customised versions to meet special requirements that you may have for your site and support needs.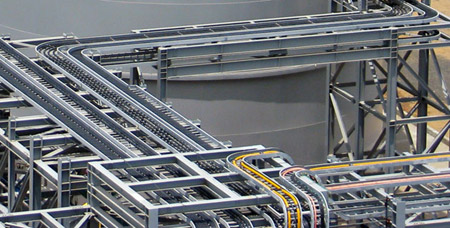 Besca is properly positioned to meet anything the market demands for customised solutions across all heavy industrial sectors including the Electrical, Mining, Oil & Gas, Water, Petrochemical, Commercial Construction (including those with special architectural requirements) and similar industries through our comprehensive manufacturing facilities.

We always welcome your technical drawings and take-offs for quotation, and our engineers can work with you to help achieve the best value from your final product. Our seamless workflow promotes a cohesive production schedule through our tailored production planning, shift management and our multi skilled workforce, hence ensuring that we meet and exceed any challenge of all of the largest and most complex projects within their respective industries.

Let Besca work with you on a tailored solution for your next unique project.